I'm not a fan of Hamburger Helper, but Brad loves it. When I leave town he runs to the store and buys a box.  It was inevitable that my kids would become Hamburger Helper lovers as well!  The health conscious side of me rebels but hey, at least they're not eating donuts and candy bars for dinner!
Last night I thought I would use whatever I could find in the kitchen to create a healthier version of their favorite Hamburger Helper.  This is what I came up with:
1 lb. Turkey burger
Pinch of salt kosher salt
Dash of pepper
Dehydrated minced onion
1 can cream of chicken soup
2 big spoons of sour cream
Red cooking wine
2 shakes of Worcestershire Sauce
Wide, whole-wheat noodles (cooked)
Brown the turkey burger.
Add salt, pepper and onion to taste.
Dump in the cream of chicken soup.
Use the can to measure the red wine (about half full) and stir into turkey mixture.
Add two big spoons of sour cream and a couple shakes of Worcestershire sauce.
Stir until all ingredients are mixed evenly.  If it's too thick add a bit of water or a little more red wine.
Cook over med/low heat until mixture bubbles.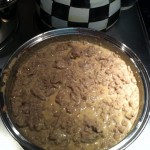 Keep warm over low heat until noodles are ready.
Pour sauce over noodles, mix together and serve.
(I wanted to cut down on pots so I added fresh green beans to the noodle water and cooked them with the noodles.  The result was an "all-in-one" meal!)
This is a very forgiving recipe!  The key is to test it along the way and add the ingredients to suit your taste… just be sure you leave some room for dinner!
My family loved the meal and so did I!
Food for thought:
A pinch of this and a dash of that works well for stroganoff but it is a dangerous way to approach God.  Many in our culture want God to conform to their preferences and tastes. They pick and choose what they like about God's character and ignore, or deny, what they don't.
I encourage you to be diligent to teach your kids who God really is and why it matters.  It's the perfect recipe to set them up for true success!
"Our ancestors left us a foolish heritage, for they worshiped worthless idols.  Can people make their own gods?  These are not real gods at all!"  Jer. 16:19b