"God is capable of doing anything – as long as it does not violate His other attributes… His power is not an abstract idea but a force to be reckoned with." Bill Bright – God: Discover His Character
God is All-Powerful. Sometimes I have to stop and remember about that reality. It's so easy to be caught up in the daily challenges of life. Is God really the Biggest and the Strongest (as we teach the young children)? Yes, He is. The enemy of our souls knows it and he works overtime to keep us from trusting in it. Satan knows if we try to live life in our own power, we will stumble and fall.
God has no weaknesses. There are no chinks in His armor. We have access to His power any time, anywhere.
I also pray that you will understand the incredible greatness of God's power for us who believe Him. This is the same mighty power that raised Christ from the dead and seated Him in the place of honor at God's right hand in the heavenly realms. Now He is far above any ruler or authority or power or leader or anything else—not only in this world but also in the world to come. Ephesians 1:19-21 NLT
The king of darkness will do his best to keep us from a strong relationship with our Savior. One that is born in quiet communion with Him each day, strengthened on the meat of His Word, and takes flight in the Power of the Holy Spirit.
If you feel the enemy is winning. If your spirit is weak and joy is fading. You are not alone. Ask for His power, courage and comfort. He will fight for you. He will win.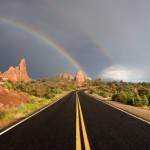 "I can do everything through Him who strengthens me."   Matthew 7:8